No plant should have to end this way.
North America's various beach plums bear purple-blue, cherry-sized fruits that make for a beloved New England jelly. The small trees' tolerance for salty, wind-blasted shores impresses biologists. But even a beach plum has limits.
One of the plum's distinctive forms, named in 1897 for physician Charles B. Graves who called attention to the plant, may have gone extinct in the wild in large part because people like a little privacy when they need a bathroom break on the beach.
All of the known Graves' beach plums grew in a cluster on a ridge overlooking the Connecticut shore in Groton. It "was the only shade on the beach," says botanist Wesley Knapp, who studies extinctions with the North Carolina Natural Heritage Program in Raleigh. Beachgoers seeking discreet foliage gravitated to Prunus maritima var. gravesii, relentlessly delivering excess nitrogen. "I can't think of a worse way … to go extinct," Knapp says.
He has now determined that Graves' beach plum and four other kinds of U.S. plants that have been wiped out in the wild still grow in at least one garden somewhere. Ongoing quests might reveal two more. Dozens of others, however, are gone.
Focusing on U.S. and Canadian green heritage, Knapp and colleagues declared August 28 in Conservation Biology that 58 plants are extinct in the wild, with no miracle rescues in gardens. That totals 65 known losses from the wild, about 1.4 per decade, since Europeans started settling in the mid-1500s.
"We are positive it is a gross underestimate," Knapp cautions. The team's methods were conservative: going plant name by name and declaring a loss of a full species or a distinctive lineage within a species only if detailed information existed.
Knapp, however, doesn't come across as a gloomy guy. He calls his motivational spiel about conserving native plants "Tales from the Crypt," and he chats colorfully about plants and the people who love them. Many of his colleagues do too. The possibility of snatching a flower or fern from the jaws of extinction has fired up a community of enthusiasts trying to document and protect what's left of the rarest of native vegetation. The challenge is immense, but sometimes there are wins. It's good practice in the art of hope.
Wild losses
To Anne Frances, a coauthor with Knapp on the extinction tally, "the one that stands out" is the Franciscan manzanita (Arctostaphylos franciscana), a sprawling woody plant with seeds that become more likely to sprout when cued by a fire's smoke.
Frances watches over native flora as the lead botanist at NatureServe, a nonprofit based in Arlington, Va., that keeps a giant database on the status of plants in the United States and Canada. She's the person who switches a plant's status to "extinct" in the database, and those keystrokes still get to her.
She was recently pandemic-teleworking and listening to a meeting when she remembered she needed to update the status on a plant that hadn't been seen for decades. The meeting suddenly stopped. Someone inquired if she was OK. She hadn't realized that as she finally clicked the entry to "extinct," she had let out a deep sigh.
The manzanita extinction story, though, has had a happy twist.
Tough, resilient Franciscan manzanita, which belongs to the same family as blueberries and rhododendrons, spreads red-barked, low-growing greenery and dangles pale little urn-shaped flowers. It's one of several manzanitas that once grew on San Francisco's serpentine barrens, dry outcroppings laden with heavy metals from greenish, vaguely snakeskin-textured rocks.
The shrub got its species name in 1905 from Toronto-born botanist Alice Eastwood, a rarity herself in the staggeringly male sciences. At age 6, she lost her mother. Despite her hard-luck childhood trying to look out for two younger siblings and cope with her father's faltering business ventures, she finished high school in Denver. That was the end of her formal education, but she showed great aptitude for botany. During summers she went collecting, preferring to travel solo, even in rugged terrain. She switched from riding side-saddle in voluminous skirts to riding astride in (gasp) denim garments of her own practical design.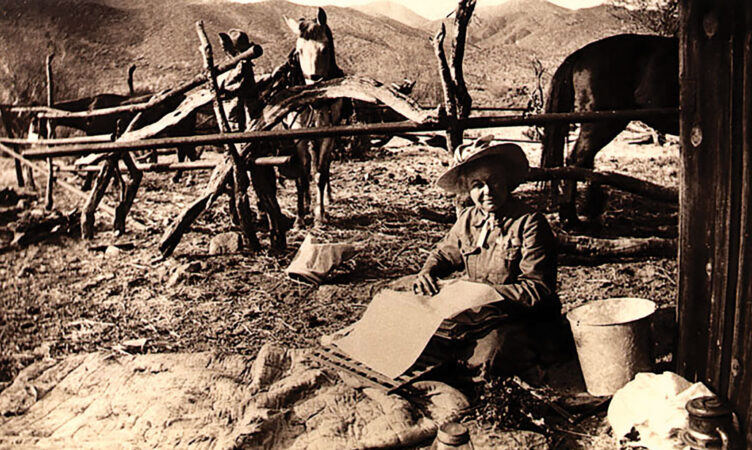 Being a woman didn't prevent Eastwood from getting a botanist's job at the California Academy of Sciences in San Francisco. She was recruited by Katharine Brandegee, a town constable's widow who consoled herself by earning an M.D. from the University of California in 1878 and then took charge of the academy's herbarium, a kind of library of preserved plant samples.
Eastwood took over from her, and before retiring at the age of 90, named dozens of species, including the Franciscan manzanita.
On the morning of the 1906 earthquake, as fire neared the academy, Eastwood and a few colleagues struggled into the damaged building for last-minute salvaging. The marble staircase was "in ruins and we went up chiefly by holding on to the iron railing and putting our feet between the rungs," she wrote in a letter published in the May 25, 1906 Science. She and a helper lowered down with cords more than 1,000 of the most valuable pressed plants from an upper floor, including the definitive specimen of Franciscan manzanita.
Yet, as the city recovered and grew, serpentine barrens and their specialized plants disappeared under roads and buildings. Nurseries sold garden versions of it, but the last wild Franciscan manzanita sighting was recorded in 1947.