Western US states are battling nearly 100 wildfires that have caused at least seven deaths, displaced thousands and destroyed whole towns.
California, Washington state and Oregon have been the hardest hit by the blazes, fuelled by heat waves and windy conditions.
Oregon's governor said this "could be the greatest loss of human life and property" to fires in state history.
Nine other states in the region are also seeing wildfires raging.
Smoke from California wildfires turns skies orange
Three deaths have been blamed on the wildfires in Oregon, with another three in California and one in Washington.
According to the National Interagency Fire Center, there are 96 large fires in the western US. More than 3.4m acres have burned so far, with tens of thousands of acres burned in the last day in California, Oregon and Washington.
Oregon officials said several towns have burned down in the fires, as winds gusted to 45mph (72km/h).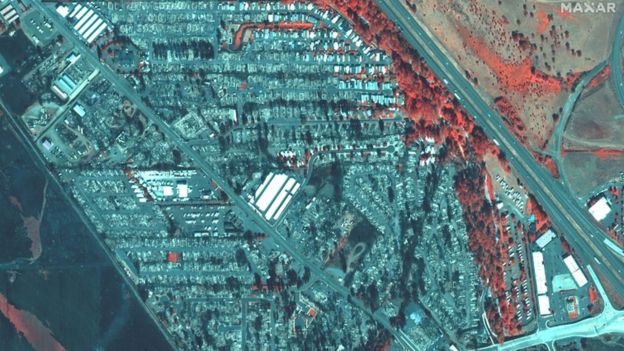 The fires are blazing across Oregon's valleys and along the coast, causing mass evacuations.